The food was spread on the green table cloth. Pink and yellow flowers adorned the center of the table. Hanging from the spreading branches of a nearby oak tree a pony pinata awaited its inevitable fate. Maya beamed! This was her birthday party and she was excited!!!
Soon, family and friends began to arrive and the introductions began. "Maya, this is your cousin," her birthmother smiled. Maya hung back a little. She has always been shy around new people, even if they are related to her. I nudged her gently and whispered, "Say, 'hello.'"
The emotional struggle over whether or not we should continue contact with the girls' birth mother had originally been a difficult one for me. And, while planning Maya's party, I found there were still some internal battles yet to be fought. Do we allow Maya's birth mother to invite members of her family to attend? If so, how many? Will it be awkward having members of her family and our family together?
We decided to invite Maya's birth mother to ask various members of her family to attend and also to help provide financially for the party. She did both. At the party four cousins and her mother (the girls' grandmother) attended. After the initial, rather formal introductions, we ate, played games, broke open the pinata, unwrapped gifts, smiled, and laughed together. It was almost as if we were all part of one big family.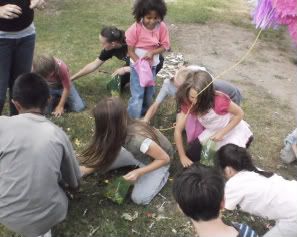 When it was over and the goodbyes were said, I breathed a sigh of relief. Everything was okay. My sister caught my eye and smiled, "It went very well." Her words echoed my thoughts. Maya had bounced between adoptive and birth family with ease, smiling all the while. Although we all arrived with our own set of adult-sized apprehensions, they were all put aside for the love of a child. Maya had her special day and we were all happy to be a part of it.
Open adoption does not work in every case. But there are times when all adults involved can, with God's help, put away their own fears and focus on the child's needs and make it work. That is when the child really benefits. I never understood that before, but I am learning it day by day. Maya's smile is helping me.