Three years ago today we brought home our youngest three daughters. They had already been in foster care for a little more than a year by the time we got them. At 18-months of age, the only family Maya had ever known was her foster family. Then one day, social workers came, took her from of her foster mother's arms, and her world changed forever.
Her older sisters (aged 3 and 5 at the time) understood things a little better, but the change was hard on all of them. They were uprooted. Their little worlds were turned upside down ... again. Due to circumstances beyond our control, we had visited them a grand total of three times before they moved in with us. To them, we were nothing more than strangers with familiar faces.
After spending the Thanksgiving holiday together as a family, it was time to get back into our routine. But the girls didn't know what "our" routine was. It was all new for them. The Monday after Thanksgiving, as my husband left for work, Maya toddled after him. From the window beside the door, she gazed out, wondering, perhaps if he would return. Shawn noticed her watching him and the look on her face really tugged at his heart. He went back to the window, waved to her, and captured this precious moment in time on his iphone.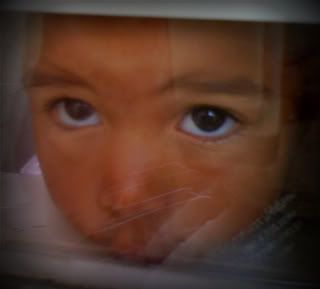 When I think of what an orphan looks like, this is the picture that comes to mind - quiet, questioning eyes filled with overwhelming loss and confusion, not knowing what the future will hold. But, through the healing power of a loving God, the questioning face of a lonely orphan can be changed into the joyful face of a much-loved daughter! This is Maya three years later.
"No, I will not abandon you as orphans-I will come to you." John 14:18